Hazardous & Non-Hazardous Transportation
As an EPA-approved transporter, Pure Effect can handle all your hazardous and non-hazardous material transportation needs. Pure Effect will remove and package the waste material and match the waste material to the most appropriate vehicle, which ensures proper transport. Once ready, our vehicles will arrive on time to load and transport the material to the appropriate facility.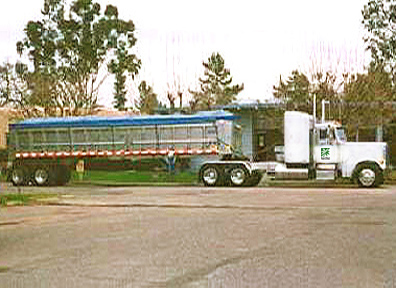 Our transportation services include the following:
Review and suggest characterization of the waste material to be transported. This is important due to the numerous Federal, State and Local rules and regulations that cover handling of waste materials. Ultimately, the generator of the waste makes the final decision and we assist with that decision.
Proper packaging of the waste material to be transported. Department of Transportation (DOT) regulations dictate proper packaging and failure to adhere to these regulations can result in citations and fines. Pure Effect ensures that all waste materials are properly packaged and in compliance with these regulations.
The preparation of all documentation for the waste material to be transported. Waste materials require proper documentation and Pure Effect prepares all manifest forms, permits and special documents necessary for the legal transportation of waste materials. We then review them with you and complete the process of ensuring that all signed copies are properly distributed to all relevant parties.
Pure Effect personnel are trained in the most current DOT and local regulations covering water handling and transportation. We maintain a modern fleet of trucks and trailers with the appropriate licenses, permits and insurance. For larger loads, we maintain relationships with licensed and insured vendors and audit them before we contract with them for their services.
Pure Effect transports hazardous and non-hazardous material in any amount, from one drum to full truck loads. We can thus guarantee that each customer's site stays clean and safe.