Pumps
Pure Effect rents and sells a variety of pumps. Our line of pumps includes prime assist, self-prime, diesel-driven, electric drive, centrifugal, and submersible pumps. We also support our pumps with a wide range of pipes, hoses and fittings.
Our complete selection ensures that we have you covered, whatever your needs:
Groundwater recovery
Construction dewatering
Flood control
Wastewater removal
Sewer bypass
Rain/storm water management
Irrigation applications (sprinkler pumps, etc.)
Our experienced field staff will implement the new system to meet or exceed your needs and ensure compliance with all applicable regulatory agency requirements. While your pumps are installed and operating, we can monitor their performance and repair or replace any pump that does not meet the standards of your project.
Through rigorous inspection and maintenance by certified technicians, we guarantee that our pumps will dependably perform at peak efficiency.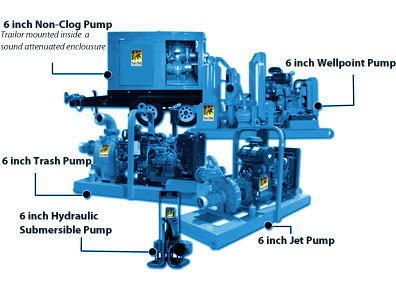 Prime-Assist Pumps
Our prime-assist pumps can easily handle tough jobs like dewatering, sewer by-pass, tank cleaning, flood management, rain or stormwater and wellpoint applications. With automatic priming and dry-run capability, they can operate in flooded conditions. These pumps are built to last. They can:
Maintain long run times
Be easily serviced
Perform efficiently
Provide good fuel economy
Self-Priming Pumps
Our self-priming pumps require little maintenance and are easy to clean and manage. They work well in applications including chemical and wastewater facilities, refineries, and for construction site dewatering. They are very dependable and provide many hours of peak performance.
Diesel-Driven Pumps
Pure Effect's high-pressure diesel-driven pumps work at pumping rates from 450 GPM to 4,500 GPM and discharge pressures of up to 260 psi. They can lift liquids up to 605 vertical feet. Our customers use our diesel-driven pumps for projects requiring higher heads or pressures. Projects that require force main pumping, fire protection, mine dewatering, evaporation systems and bypass applications are suitable projects for our high-pressure pumps. Our clear water pumps have applications for agricultural, construction and general service uses.
Electricity-Driven Pumps
Electricity-driven pumps are clean and quiet. They do not expel exhaust into the area around the job site. They are great for any project where diesel engines are not allowed or are impractical.
Centrifugal Pumps
Our centrifugal pumps are available in most flow/pressure combinations and in a variety of materials, including bronze, iron, stainless steel, and some with inter-plastic components.
Submersible Pumps
Our clients use electric submersible pumps for all types and applications. Electric submersibles are quiet, easy to use, and can run around the clock without refueling.
Hydraulic submersible pumps are used when a high suction lift is necessary. Applications for these pumps include sewer bypass, mining, quarry and gravel pit dewatering. They have variable speed performance capabilities and can be left unattended with the pump head submerged.
Pure Effect's pump selection ensures that you have the right equipment for your demanding application, with dependable and efficient operation throughout the entire project.