Vacuum & Rebed Carbon Media Services
Over time, carbon filter media can lose its ability to reduce contaminants from water and air streams. When this happens, the vessel containing the media needs to be emptied, vacuumed, cleaned out, and  the media needs to be replaced.
Pure Effect's trained professionals use their experience in the design and implementation of liquid and soil vapor treatment systems to provide complete on-site vacuum services for water and air treatment media re-bedding on site services. Our trained technicians will arrive on site and safely clean and remove vapor phase and liquid phase media (such as granular activated carbon and ion-exchange resin). Once the vessel is clean and clear, the technicians will install fresh media and reseal your system. When the service is complete, we transport the spent media to an approved facility for disposal or reactivation for re-use.
During their visit, our technicians will inspect each vessel they work with and make recommendations for repairs or replacements as needed.
No job is too big or too small. Pure Effect is equipped to handle whatever your needs are at the time they occur, from 55 to 500,000 pounds and more.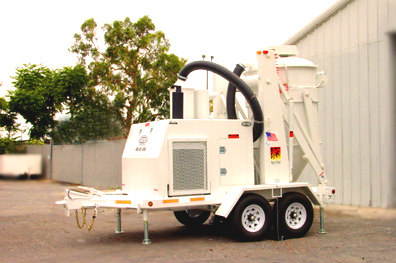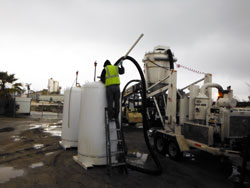 Training
To ensure that our technicians know how to deal with any contingency, they are trained in every facet of their profession, including confined space entry, forklift operations, Refinery Safety Overview (RSO) training and American Petroleum Institute (API) training. All of our field technicians are also certified with the latest 40 hour Hazardous Waste Operations and Emergency Response (HAZWOPER) training. HAZWOPER is an OSHA program designed to provide training and protect workers at hazardous sites, as well as provide confined-space training. This training ensures our OSHA-certified technicians are experts in required clean-up operations, corrective actions, voluntary clean-up, hazardous waste operations, and emergency response.
Pure Effect is always there when you need us. Our same-day or next-day service enables our clients to feel secure that their needs will be handled safely, quickly, and efficiently, no matter what task is required.
Carbon media Change Outs
Our turnkey carbon media change out service ensures that our clients' filtration products are active and doing their job without fail. We offer this service to clients of all sizes. Since it is turnkey, we provide equipment, trained technicians, removal and replacement, and disposal, which minimizes safety issues and eliminates the possibility of spillage and damage.
Carbon Vessel/Canister Exchange
Rather than replace carbon and filter media on-site, Pure Effect can also remove the container that houses the media, take it to our facility, empty it, clean it, replace the media, and return the container to its location. Once this is complete, we transport the waste carbon to an approved facility, where it is properly disposed of or reactivated for reuse. This service is especially useful for clients who cannot have media changed on site. Pure Effect is based in Orange County and also serves all of Los Angeles County, San Diego and the rest of Southern California.
Spent Carbon Disposal
Disposal of spent carbon must be safe and environmentally sound. Pure Effect maintains industry and regulatory best practices when we dispose of spent carbon. We are committed to maintaining the highest environmental standards and we meet or exceed all federal, state and local regulations.