Water Storage/Holding Tanks
Pure Effect has a large inventory of water tanks for use on projects of all sizes. Typical job sites where our water tanks are used include:
Cooling tower cleaning
Wastewater storage and treatment
Groundwater and wastewater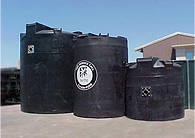 Pure Effect's tanks are available in a variety of sizes, from 500-gallon to 21,000-gallon, and are available in both steel and polyethylene. Many of our tanks are equipped with internal baffles. Whatever the size or scope of your project, Pure Effect can configure the right tank system for you.
Polyethylene Tanks
Our tough, highly chemical-resistant polyethylene tanks are ideal for the storage of waste liquids and caustic or acidic materials. With a wide inventory of tanks on hand, we can quickly design and implement the right poly tank system for your project.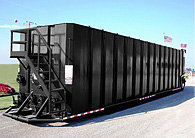 Steel/Stainless Tanks
Our steel and stainless steel tanks enable us to design and construct containment projects of any size or storage need. Our tanks are often used for Frac-drilling activities, storage of stormwater runoff, and for use with filtration systems in environmentally sensitive projects. Tanks can come with built-in guardrail systems and safety stairways, all designed for easy cleaning. Our steel tanks can also be modified for special requirements to suit your project, and we can replace nozzles, reconfigure valves, or add weirs.
Desilting Tanks/Dewatering Boxes
Our desilting tanks offer reliable construction to ensure water is free of all sludge and slurry. These tanks can be constructed of polyethylene or steel/stainless steel, and can be configured to whatever size suits your project needs. Our desilting tanks are made to be rust-free and leak-free and can contain odor along with liquids.
Frac Tanks
Our Frac tanks can be used to store wastewater and construction runoff and are available in a variety of sizes. As with our other tanks, these can be constructed of either polyethylene or stainless steel and can be configured to whatever size suits your project specifications.
Roll-off Boxes
If you need to contain solids, our roll-off boxes are the perfect environmental solution for solid waste. They can be used for storing and disposing of solids from dewatering and liquids-solids separation activities. Use these boxes when you need to manage solid waste. Pure Effect has a wide variety of sizes, to suit any project, large or small.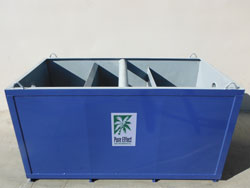 Weir Flow System/ Weir Tanks
All our tanks can be configured with a Weir flow monitoring system to enable residual fluids to be easily separated and flush out. Weir systems include both over and under-Weirs for simple separation of liquids.
Baffle Systems
Baffle tanks offer another option for water filtering and can be configured for stainless steel or polyethylene tanks. Baffle tanks are ideal for creating a staged treatment process in an existing single stage operation. A multi-stage system can reduce power requirements and save energy costs.
Special Needs
If your project has special needs for storing or hauling extremely caustic or acidic materials, Pure Effect can design and implement containment and transportation units just for you.