Vapor Phase Vessels
Our vapor phase carbon vessels have been designed and built to meet or exceed the highest possible standards in both manufacture and materials. Each vapor phase vessel is designed to maximize the bedded carbon and to ensure the lowest possible pressure drop. This helps minimize back pressure on upstream equipment. To ensure longevity, each vessel has interior and exterior linings that have corrosion and chemical resistant coatings.
Our versatile vapor phase carbon vessels are used for:
Controlling NESHAPS emissions
Controlling odors
Controlling VOCs from soil
Controlling VOC from air strippers vapor extraction systems
Reducing toxic vapors
Reducing hydrogen sulfide gas
Reducing corrosive gasses
Filtering wastewater vents
Filtering product storage tanks
Filtering landfill gasses for co-generation projects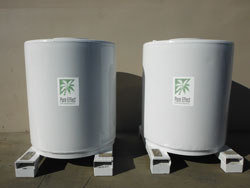 Our vapor phase carbon vessels are compatible with all the types of activated carbon and other specialty media that we carry.