Sand Filters
Pure Effect's sand filter systems provide immediate filtering of water at the job site. Our skid-mounted sand filters are designed to control total suspended solids at flow rates ranging from under 1 GPM to over 2500 GPM. Our sand filter systems include automatic backwashing capabilities. They are ideal for use at construction sites, for environmental remediation, and for removing industrial sediments.
We carry sand filters of all sizes and volumes, from low-pressure flows to high-volume water streams, for use on projects of all scopes and complexities. Our sand filter vessels are constructed of either stainless steel or epoxy coated high-grade steel. They are fully automated and easy to use, with convenient, easy-to-read gauges and tool-free connections. All our sand filters are available for rent or purchase.
Pure Effect also designs, installs, and maintains water quality monitoring solutions, with sand filters as part of the solution. We offer comprehensive project management when needed, which ensures that every project runs smoothly and that any changes in conditions or flow rates are immediately met with the requisite changes in the treatment system.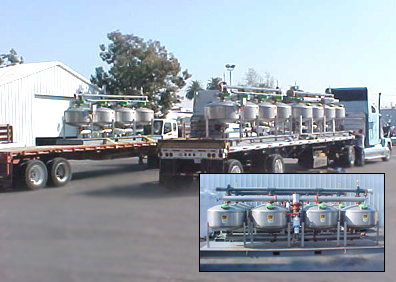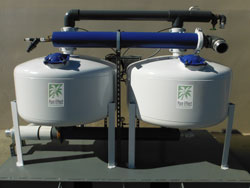 Deep Bed Sand Filters
Pure Effect's deep bed media sand filters are designed for dirty water conditions and water filtration down to 15 microns. These units are designed for removal of organic and inorganic suspended soils for filtering large volumes of water with very little pressure drop. All media filters have a simple backwash system for ease of operation.
Applications:
Flow ranges from 10 GPM to 1,000+ GPM
Removal of organic and inorganic suspended soils down to 15 microns
Stormwater runoff, industrial process water, incoming plant water, wastewater clean-up and industrial water plant for reuse